The greater the stakes, the greater the performance from Novak Djokovic. This has always been one of the key pillars of Djokovic's success as he has swept up all of the significant titles in sight so many times over, and it has also been perfectly demonstrated throughout another triumphant week in Turin.
Five days after Jannik Sinner played some of his best tennis to edge past Djokovic after three exhausting hours in their round-robin battle, Djokovic simply elevated his level to heights that Sinner could not match as he routinely defeated the Italian 6-3, 6-3 to win the ATP Finals title.
At this point in Djokovic's career, almost every triumph comes with another record. The Serb has now won seven ATP Finals titles, breaking his tie with Roger Federer. He continues to head towards his own century with 98 titles, a distinction achieved only by Jimmy Connors (109) and Federer (103) in the men's game. On Monday Djokovic will enjoy a ridiculous 400th week at world No 1, now 90 weeks greater than Federer in second place.
Throughout this season, Djokovic has frequently made clear that the biggest tournaments were his priority, an ethos he has faithfully lived up to: Djokovic has won four of the five biggest titles this year – the Australian Open, French Open, US Open and ATP Finals – with only an inspirational performance from Carlos Alcaraz at Wimbledon stopping him having it all. He finishes the ATP season with seven titles and a handsome 55-6 win-loss record.
Djokovic arrived in the final after producing one statement performance against a youngster, Alcaraz in the semi-final, dropping only five games to his closest adversary. Less than 24 hours later, Djokovic simply picked up where he left off.
The improvements that Sinner has made to his serve have rightfully garnered significant attention over the past few months and particularly this week, yet it was Djokovic's serve that dominated throughout, again showing how the shot has been transformed in recent years. He served spotlessly, slamming down seven aces in the opening set and conceding only two points on his serve against one of the best returners until he led 6-3, 3-2.
Similarly, Sinner is known as one of the biggest, cleanest hitters in the world and Djokovic is still sometimes categorised as a defence-first player, yet the reigning champion started the match demolishing forehands, another significant adjustment he has made in the latter part of his career. After four games, and with the decisive break secured, Djokovic's average forehand speed read 86mph compared with Sinner at 74mph. Djokovic suffocated his opponent with his depth, sharp direction changes and relentless, clean ball-striking.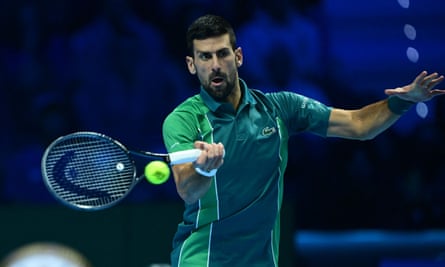 What on earth can you do when the best returner and defender of all time is also outserving and outhitting you? As Djokovic's game flowed towards the end of the first set, he won 14 points in a row to establish a set and a break lead as he hunted a second break.
Still, Sinner fought hard. Down 0-2 and 0-30 on his serve, Sinner did incredibly well to survive another break point in a lengthy deuce game and somehow keep himself in the match. Moments later, Djokovic responded by slamming down three aces, an unreturnable serve and holding to love in a minute.
His failure to take his chances on Sinner's service games led to a nervous final few games, with Djokovic trailing 15-40 and 0-30 in consecutive games. Each time the contest could have become more complicated, though, Djokovic methodically recovered, he held serve and continued his march towards yet another significant title.
For Sinner, this has been an incredible week as he has further elevated himself among his peers. He has shown that he continues to grow into an increasingly complete player, he has become mentally tougher and he has positioned himself as a clear contender for the biggest tournaments in the year.
The problem for the best young players is that even as they make meaningful strides, so does Djokovic at 36 years old. His commitment to working on his craft and continuing to grow as a player, even after all he has achieved, is astounding and the consequences are clear: as Djokovic continues to rack up big titles, so few players have shown that they can stop him.
Meanwhile, Britain's Joe Salisbury and Rajeev Ram of the US defeated Horacio Zeballos and Marcel Granollers to defend their doubles title at the ATP Finals.