Atone and Irad Ortiz Jr. win the Pegasus World Cup Turf Invitational
How much does a graded stakes win cost?
The answer can go in plenty of directions, but one of the most obvious is tied to the stud fee paid to conceive a graded stakes winner in the first place.
That initial fee can go a long way in dictating expectations for a Thoroughbred, setting a general level for the caliber of buyer that might dig in for them at auction, or the bar for profitability for a breed-to-race operation. When it comes to graded stakes races, the stud fee can be used as one sign to indicate whether a sire and his runners are punching above their weight, meeting expectations, or need to be sent down the commercial ladder.
In the following charts, we'll take a look at the active stallions with the most North American graded stakes winners in 2023 through the end of February, organized into four stud fee tiers, to chart who is providing the most bang for their buck.
To be considered for this list, stallions must be active in North America in for the 2023 breeding season, with an advertised fee. With runners being conceived at different stud fees in different years, this was the simplest way to keep a horse to one line. Plus, it provides a window to the stallion's current market standing, and not where it was a few years ago.
Let's get to it.
Leading Sires Of 2023 Graded Stakes Winners, $100k Fee and Up

To the surprise of no one, the sire that set the North American progeny earnings record in 2022 has started white-hot in 2023, leading all North American sires by graded wins and winners by comfortable margins. Considering the Spendthrift Farm resident also stands for the continent's highest stud fee, the pace has lived up to the price.
Into Mischief's first two months have been led by Atone, who took a wide rally to the winner's circle in the Grade 1 Pegasus World Cup Turf Invitational. For a stallion that has already scaled plenty of mountains in his career, Godolphin-bred Atone might have kicked off Into Mischief's 2023 with his most significant turf win to date.
Into Mischief has also been well-represented on the prep trails for the Kentucky Derby and Oaks, with Rocket Can taking the G3 Holy Bull Stakes, Newgate winning the G3 Robert B. Lewis Stakes, and General Jim taking the G3 Swale Stakes, while Pretty Mischievous carried the Oaks contenders with a triumph in the G2 Rachel Alexandra Stakes.
Leading Sires Of 2023 Graded Stakes Winners, $99k to $50k

One of the most dependable names in the stud book, Lane's End resident Candy Ride leads this price tier with a pair of Derby trail prospects: G2 Rebel Stakes winner Confidence Game and G3 Withers Stakes winner Hit Show.
Frank Mitchell recently wrote about Candy Ride, and one of his recent non-graded stakes winners Candy Man Rocket, in his Bloodlines column.
Support our journalism
If you appreciate our work, you can support us by subscribing to our Patreon stream. Learn more.
Leading Sires Of 2023 Graded Stakes Winners, $49k to $20k

Two stallions at different points of their careers top this tier: One, a contender for Kentucky's most underrated sire and a fast-emerging broodmare sire, and the other, the leading freshman sire of 2022.
Claiborne Farm resident Blame has serious contenders on the Kentucky Derby and Oaks trails with G3 Sam F. Davis Stakes winner Litigate and G3 Honeybee Stakes winner Wet Paint, respectively.
On the heels of topping North America's freshman sires by progeny earnings last year, Spendthrift Farm's Bolt d'Oro is back with G3 Lecomte Stakes winner Instant Coffee on the Derby trail and G3 Kitten's Joy Stakes winner Major Dude making an impact on the grass.
Leading Sires Of 2023 Graded Stakes Winners, $19k and Below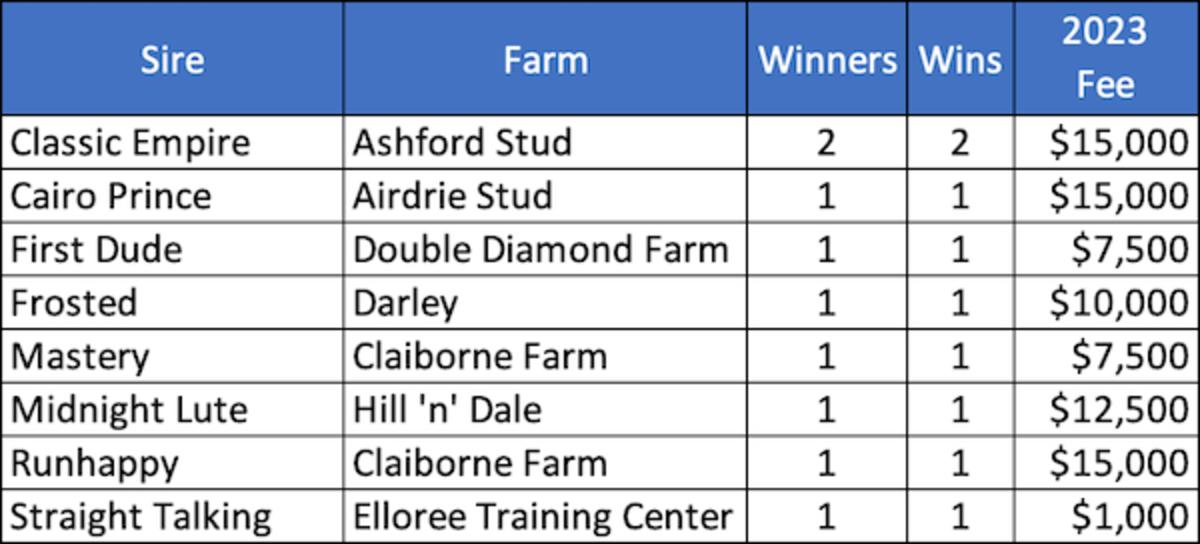 The first two months of 2023 have seen Ashford Stud's Classic Empire take a huge step forward, already equaling his number of graded stakes wins from all of last year.
That charge has been led by upset G2 Risen Star Stakes winner Angel of Empire, who will aim to add more graded stakes wins to his sire's column further down the Derby trail. He is joined by Classy Edition, who took the G3 Royal Delta Stakes at Gulfstream Park.
Classic Empire was named First Team All-Weather Sire on the 2022-23 All-Value Sire Team, spotlighting the top stallions standing for $20,000 or less. That analysis can be read here.