GO FOURTH AND save some face for your failure to conquer.
Manchester United's 7-0 shellacking at Anfield was shocking but also clarifying. United are now cut drift of the top two chasing the title and their primary aim is now to secure a place in the top four, a race into which Liverpool have now vaulted. 
Let's take a look at the contenders for a place in next season's Champions League.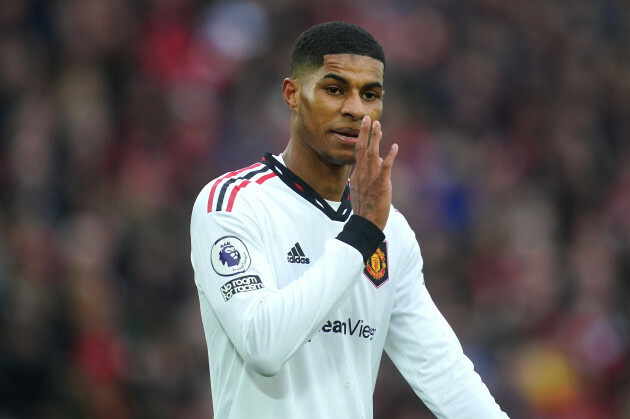 PA


PA

Manchester United
Current position: 3rd 
Points: 49 
Games played: 25 
Goal difference: +6
United showed the Liverpool Incident left little scar tissue in their strike-out against Real Betis in midweek, while Sunday's home game against Southampton is about soft a follow-up in the league as they could have wished for. 
Seven points clear of fifth-placed Liverpool having played the same number of games, United are in a very strong position to return to the Champions League next season. They also have the easiest-looking fixture list of all of their rivals, having already played City and Arsenal twice. Head-to-heads with Newcastle and Spurs before the end of April offer opportunities to take the nerves out of May. The only true concern for Erik ten Hag will be fixture congestion: United have a slightly daft seven league games in April, along with ongoing interests in the FA Cup, Europa League, and a game in hand against Brighton to be squeezed in somewhere. 
Three key remaining games
Newcastle (A) – 2 April 
Chelsea (H) – 22 April 
Spurs (A) 27 April 


PA
Richarlison and Antonio Conte.

PA

Spurs 
Current position: 4th 
Points: 45 
Games played: 26
Goal difference: +10
Even Antonio Conte's Spursy-style implosions are dreary. This entire operation is utterly moribund now, with the Champions League exit to AC Milan a sodden, dreary low. This loveless marriage is doomed and may not even see season's end, with but for now Spurs have not moved to jettison Conte given they are somehow top-four incumbents; manager and club manacled to each other in the mutual interest to qualify again for the competition they so meekly exited in midweek. Spurs' may be the only side hamstrung in the top-four race by existential questions wondering about the point of it all. 
Can they do it? Their advantage is precarious: they are three points clear of Liverpool now, but having played a game more. Son's collapse in form has been ruinous for Spurs, while one of his potential replacements, Richarlison, is now in open dispute with Conte. 
Perhaps of some consolation to Spurs is that they don't need to be perfect for the rest of the season, they might steal into the top four if they find form at the right time. That time is the final week of April, where they play Newcastle, United, and Liverpool in the space of seven days. 
Three key fixtures 
Newcastle (A) – 23 April 
Manchester United (H) – 27 April 
Liverpool (A) – 30 April 


Alamy Stock Photo
Jurgen Klopp.

Alamy Stock Photo

Liverpool
Current position: 5th 
Points: 42
Games played: 25 
Goal difference: +19
Well, Liverpool are somehow in this race. After they lost 3-0 away to Wolves five weeks ago, they were 10th in the league, 11 points behind fourth-placed Newcastle. Four wins and a draw later and they are now ahead of Newcastle with their sights set firmly on another return to the Champions League. 
Their recent set of financial accounts accentuated just how badly Liverpool need to be competing at Europe's top table. Last season's run to the final earned them €118 million, or to convert it into another currency, roughly One Jude Bellingham. 
Liverpool's chronic injury issues seem to have abated, and they are now picking up their characteristic late-season momentum, keeping clean sheets in all of their last five league games.  
Their biggest concern is their fixture list, which is more daunting than any of their rivals: they have to play Man City and Arsenal again before the season is out, along with Chelsea and Spurs. Like Spurs, a lot will hinge on a brutal week of fixtures in April. They will return from the international break facing into the prospect of away games against Man City and Chelsea along with a home clash with Arsenal in the space of eight days. 
Three key fixtures 
Man City (A) – 1 April 
Arsenal (H) – 9 April 
Spurs (H) – 30 April 


PA
Eddie Howe.

PA

Newcastle United 
Exclusive Six
Nations Analysis
Get Murray Kinsella's exclusive analysis of Ireland's Six Nations campaign this spring
Current position: 6th
Points: 41 
Games played: 24 
Goal difference: +18
After an excellent start to the season, Newcastle's form has curdled since the World Cup, a fact somewhat masked by the run to the Carabao Cup final. Newcastle are bottom of the Premier League form table over the last six games, with goalscoring becoming a major problem. Miguel Almiron's unsustainable goalscoring form has proved to be exactly that and nobody has filled the void in his absence, with Aleksander Isak a disappointment thus far. 
In better news, Bruno Guimaraes is back from suspension – they desperately missed him – and they have two games in hand on fourth-placed Spurs. Their fixture list is not quite so rosy, mind, with another clash with Arsenal slated for the first week of May, while their final game is away to Chelsea, a much trickier ending fixture than any of their rivals'. 
Three key fixtures 
Manchester United (H) – 2 April 
Spurs (H) – 23 April 
Chelsea (A) – 28 May 


PA
Evan Ferguson.

PA

Brighton 
Current position: 8th 
Points: 38 
Games played: 23 
Goal difference: +14
It might be harsh on seventh-placed Fulham to omit them from this piece while including a side below them in the table, but Brighton have fully three games in hand on Spurs, whom they trail by seven points. They are a true outside bet to sneak into the Champions League places but their doing so shouldn't be entirely ruled out just yet. 
After a rocky start, Roberto de Zerbi has been a sensation, addressing the side's goalscoring goals under Graham Potter while arguably playing even better football. He has also endeared himself to a nation by making a Premier League regular out of Evan Ferguson at only 18. 
The fixture list is not exactly benign, given that their games in hand are against putative top-four rivals – United and Newcastle – while they also have to play both City and Arsenal along with Spurs. Fixture congestion might also prove an issue, while their focus may ultimately be drawn to the FA Cup: a quarter-final draw against Grimsby in a competition featuring just three other Premier League sides gives them a very good chance of a trophy.  But they are not to be discounted just yet. 
Three key fixtures 
Spurs (A) – 8 April 
Man City (H) – 23 April 
Arsenal (A) – 13 May